If you have a teenager, you'll be used to facing the dilemma of not knowing what to give them. Whether it's a birthday coming up, or whether you want to reward your child for being a good student, finding a gift that really rocks your child's world is an odyssey.
A great way to give a gift to a teenager is through board games. However, the offer in this field is immense.
If you also consider the enormous influence that video games have nowadays… things can get complicated for a parent in trouble.
The good news is that today I bring you this TOP 16 of the best board games for teens, where you will find the most fun games, with a high power of attraction for boys and girls of that age, all available on Amazon.
Number 1. Carcassonne
Carcassonne will be a great gift if you have a teenager at home with a competitive personality.
This game can be played by 2 to 5 people, and they will have to face each other to see who can complete the most constructions and scatter the most followers around the board. (it's like winning followers on social media, the kids love it, it's a proven fact)
It also has simple rules, so you don't need to become an Einstein to play, or spend long hours studying the rules of the game.
But you will have to be skillful because you can even take advantage of your opponents' achievements for your own benefit.
You can buy the basic game to start with. But since Carcassonne is a game that is fascinating, then you can acquire expansions (there are many), and the game grows and gains in challenges.
Number 2. Settlers of Catan
Catan is probably one of the most popular board games available. Its gameplay is a little more extended than in the previous game, as it can last up to an hour.
Catan is a game with a lot of action. Here, in addition to building, you will have to develop activities that will allow you to prosper, such as exploiting natural resources, making objects, trading…
It's also competitive, and up to 4 players can play against each other. In addition, it will teach the importance of establishing business relationships and cooperating with opponents, as this is fundamental to winning the game.
The one with the most achievements wins the most points and is declared the winner.
Number 3. Harry Potter: Hogwarts Battle
don't know many teenagers who aren't passionate about the Harry Potter universe, almost all of them have seen the movies or read the books.
Any teenager would give anything to live in their flesh, even a little piece of the crazy adventures of Harry Potter and his magic friends.
That's what this board game allows – not just any little bit of adventure, but the most exciting of all, the highlight of the story: The Battle of Hogwarts.
It's a cooperative game, for 4 players. The boys who play this great game will be able to fight against the armies of the Dark Lord and prevent the destruction of the beloved school.
It is also a "many-in-one" game, because it comes with a box with pieces for each movie in the saga.
They start playing with "The Philosopher's Stone", gradually adding box after box. By the time they get to "The Deathly Hallows", they'll be more skilled than Dumbledore himself.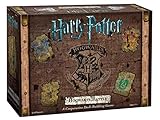 Number 4. Death Note: Confrontation.
The Death Note card game is a must for every fan of this popular anime.
Every teenager who has ever seen the series will be dying to play it. It's for 2 players: Kira and L.
L will try to gather the evidence to catch Kira, based on deduction and evidence. Kira will try to escape unless L catches him first.
The game has two chapters, which allow you to make two different games, the second one more complex than the first one.
It is designed to fully immerse you in the Death Note universe, not only because of the characters but also because of the places and events.
Number 5. Monopoly – Game of Thrones
Monopoly is a classic, good for all ages.
What's so special about this one for teenagers?
Well, nothing more and nothing less than the setting in the universe of the series that conquered hearts all over the planet.
The rules of Monopoly, and the world of Game of Thrones… Can you think of a more perfect combination?
And when I say the game is set in the series, I don't mean just decorations and cartoons, but the whole game mechanics is imbued with the life of The Seven Kingdoms of Westeros: The players represent the big houses; the buildings will be cities, villages, castles; the investments will be made in smithies, taverns, gun shops…
Anyway, this fantastic monopoly gives the opportunity to your favorite house to take command of the Seven Kingdoms, without war, but with the skills of a good entrepreneur.
I don't think there's a teenager who could resist.
Número 7. Risk – The Walking Dead
Do you know the game Risk? I'm sure your teenager does because it's one of the most popular war games.
The point is that Risk has also been launched into the Walking Dead series with this game.
The struggle for survival in a post-apocalypse zombie world is the central objective of this game. From 2-5 players, you'll have to work together to conquer your own territory, and in addition to evading zombies, defend yourself against other aggressive human groups.
Number 7. Seven Wonders
This is a great game where the players are the leaders of 7 cities in the ancient world. They will have to build the Wonders, those fabulous buildings that will transcend all time.
Over the course of 3 eras, they will advance their purpose and accumulate victory points. It comes for 7 players, but can be played from 2, although the more players, the more fun it is.
During the game you can choose many options, so the games are different each time you play it, being a game made to always enjoy.
You have to use strategy, but that doesn't slow down the game but keeps the movement good. Special for teenagers, because besides being super entertaining, they will learn world history.
Number 8. Time's Up
There's no guy who doesn't like to party, some more, some less, but everyone enjoys the hype. That's what Time's Up is all about, a game where you have to identify famous people.
The incognito character can be an actor, a singer, a sportsman, or a fictional character. They can be guessed using different methods: words, related products, or mime.
It is played in two teams, and there is a time limit for guessing, which has a very cute hourglass that comes with the game, along with guessing cards.
The adults, so serious, responsible, and uptight, laugh at this game. Imagine the kids!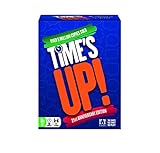 Number 9. Mysterium
If you have played Clue, you will quickly become familiar with Mysterium. Here again, you have to solve a murder, using deductive insight to identify the right suspect, the right place, and the right weapon.
However, in Mysterium, one of the players will play the role of the victim's ghost, and the visions provided by this grieving soul will be the clues.
You can play between 2 and 7 people, one of them will always be the ghost, and the rest will be the investigators.
Games last 45 minutes or so and can be repeated as much as you like.
From the acclaimed creators of Dixit, this game is a real visual delight and encourages creativity in young people.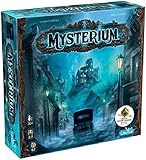 Libellud , Mysterium Board Game (Base Game) , Mystery Board Game , Cooperative Game for Adults and Kids , Ages 10+ , 2-7 Players , Average Playtime 45 Minutes
Juego de mesa misterioso: Hace treinta años se cometió un crimen horrible en los terrenos de Warwick Manor. Ahora la mansión está embrujada por el fantasma del sirviente asesinado y depende del agrupamiento de investigadores psíquicos llegar al fondo del misterio
Juego de mesa cooperativo: un jugador asume el papel de la víctima (que ahora es un fantasma) y el resto juega como psíquicos. En el transcurso del juego, los jugadores trabajan juntos para resolver un misterio comunicándose psíquicamente con la víctima
Visiones interpretadas: cada jugador investiga un caso asignado a ellos para determinar quién es el asesino real. Los psíquicos reciben numerosas visiones del fantasma con pistas. ¿Pueden entender y determinar el arma, la ubicación y el asesino?
VARIABILIDAD: Docenas de diferentes sospechosos, armas y ubicaciones aseguran que no haya dos juegos iguales. ¿Jugar fantasma o psíquico liderar varios juegos BUSCANDO UN NUEVO RETO? Los juegos de expansión están disponibles (las expansiones requieren juego base para jugar)
Número de jugadores y tiempo de juego promedio: este juego de mesa familiar y adulto se puede jugar con 2 a 7 jugadores, a partir de 8 años. El tiempo de reproducción promedio es de 42 minutos
Number 10. Bang!
A role-playing game set in the Wild West, with lots of action. This game is very well received by the teenage audience because it is very dynamic. The games are never the same, and you don't fall into the monotony.
Between 4 and 7 players, you can choose from: Playing the Sheriff, his deputy, the outlaws, or the renegade.
In each game, you can exchange roles, and try the game from another perspective, although you will always have to play the role in the middle of shootings, explosions, and attacks by brave Indians.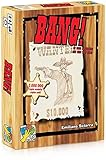 Number 11. Dixit
Dixit is a game to use the association capacity. In each round, 6 cards are dealt, and one of the players will be the Narrator.
He will choose one of his cards, and without showing it, he will make an allegorical story to the illustration that contains the card.
Guided by this narrative, the players will be able to make their allegories, with their own cards containing related images.
From the combination of arguments, they will have to be able to deduce which is the card of the narrator.
The best thing is that the narrator cannot cheat, because if he decides to tell a story that has nothing to do with the image, nobody will vote for him and he will not win any points.
I warn you that it's a very competitive game. You'll see what happens when the bad losers claim the validity of their deductions!
It's also a lot of fun when someone, who already thought of itself as a Sherlock Holmes, realizes how far away is from winning.
Number 12. Citadels
Citadels is a game to be entertained for a long time.
The basic game allows 1 and a half hours or 2 hours of matches. But with the extensions, the games last much longer. So this game is a good investment for kids to have a good time without getting bored.
The goal is to build medieval cities and get to make the most fabulous one, to be awarded the King's Master Builder position.
To advance in the construction of a city you must intelligently use the local characters, ranging from the dreaded thief, who will steal all your cards, to the architect.
The money to finance the work also has to be earned, so there is plenty of work to be done.
Before you start playing, you have to pay attention to the rules. But, once you've taken practice, the game becomes delicious… and addictive.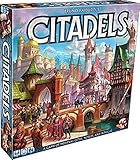 Fantasy Flight Games FFGWR02 Citadels 2016 Edition
Esquema de trama, engañar, y como usted construye excelentes ciudades en citadels, Bruno Faidutti del clásico juego de tarjeta redacción, intriga y astuto caracteres.
En la ciudad de citadels, dos a ocho los jugadores deben shrewdly proyecto de personajes y utilizar sus habilidades para crear el mejor posible.
2 a 8 jugadores
Edades 10 +
30 a 60 minutos tiempo de juego
Number 13. Ticket to Ride
This game involves setting up railroad networks throughout the map. The Destination Tickets indicate which cities should be connected, and the further away they are from each other, the more points the connection provides. Points are also earned for building the longest, most uninterrupted track.
Players can take advantage of sections of track built by others, so it takes some cunning to avoid it. Playing Ticket to Ride makes for some pretty good matches, I'll tell you that!
The game has room for 2-5 players and will last between 30 and 60 minutes.
Number 14. The Game of Life
Never has the name of a game been better placed, because the goal here is precisely to play the game of life.
Game of Life takes you through all the stages of life, right up to retirement, and it will all happen according to the decisions you make… and the indications of a roulette wheel that usually brings out every surprise…
Things as real and practical as getting married, having children, buying a house, changing cars, getting a loan, or adopting a pet are reproduced in this game in a very enjoyable way.
Do I look for a job, or do I start studying? Do I learn a trade, or do I start a career? Do I move to a bigger house now, or do we stick together a bit more?
All that and more will serve as a fun training for the young people at home.
The goal of the game is to go through life with success so that in the end, the person who has managed to accumulate the most money for his or her retirement wins the game.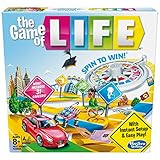 Hasbro Gaming C3893 Game of Life (Exclusivo de Amazon), edición Limitada
Gran juego familiar: ¿recuerdas haber jugado este clásico juego de mesa Hasbro desde tu infancia. Con configuración instantánea y juego fácil, esta edición exclusiva es muy divertida para jugar cuando la familia está junta
La vida está llena de aventuras: esta edición del juego de la vida incluye 115 cartas que ofrecen opciones emocionantes a medida que los jugadores se mueven a través de los giros y giros de la vida
Elige una carrera interesante: los jugadores pueden elegir entre 31 cartas de carrera con carreras inusuales o peculiares como Ice Cream Flavor Maker o un agente secreto
Elija unas vacaciones increíbles: tome un viaje de esquí, un safari o vaya a bucear en un arrecife de coral. Elija unas vacaciones increíbles, desde aventureras hasta relajantes
Juega a girar para ganar: quién está destinado a la riqueza y la fortuna instantáneas. Juega a girar para ganar y averiguarlo. Al final, los jugadores pagan deudas, suman la riqueza y quien tenga más dinero al final del juego gana
Number 15. Cards Against Humanity
If you don't mind playing with serious stuff… you'll love this game. And for a boy or girl to have fun with their friends, I assure you it's the best. You know, they love to laugh at everything, and when I say everything… It's EVERYTHING!
Well, Cards Against Humanity, as its name suggests, is a card game where there are question cards (black card), and answer cards (white card).
For every black card that comes out of the pile, the players will select a white card from their deck, taking care that this one gives a coherent answer.
What is important here is consistency, not that the answer is correct, because the latter, in fact, almost never happens. What is delicious about the game is precisely the mountain of crazy answers that are obtained, usually contrary to "political correctness", and full of black humor.
---
Now you can choose which of these teenage board games you think your son or daughter will like best.
Since you already know what each one is about and how to get it, you just need to consider your children's temperamental characteristics, their tastes, and inclinations and buy them one of these fantastic games.
Don't rack your brains thinking about whether to buy clothes, a video game, or a basketball. A teenage board game will be the best gift you can give them: fun, playable, durable, and out of the ordinary!
Not to mention that you'll be nominated for the Best Parent of the Year award.
We recommend that you read these articles as well:
¡Siento que este contenido no te haya sido útil!
¡Déjame mejorar este contenido!
Dime, ¿cómo puedo mejorar este contenido?
Última actualización el 2023-12-04 / Enlaces de afiliados / Imágenes de la API para Afiliados