We are in the midst of the video-game boom, we see them everywhere and there are many young people who prefer a console, a computer or a smartphone, rather than enjoying a classic board game.
But this particular industry is far from dead, although it is quieter than the videogames industry, board games still sell large numbers of copies every year and there are many who still enjoy the magic of sharing adventures with friends and family.
If you love strategy board games, if you are nostalgic for the old days or if you want to provide your children with an alternative to have fun in a different way, the following is an excellent list of the best strategy board games on the market today.
Immerse yourself in a world of fantasy, manage resources and nations, conquer territories and solve mysteries. With a proper board game, only your imagination is the limit.
Game of Thrones ( The Board Game)
An excellent board game of strategy for conquering territories in the style of Risk, but much more complicated.
You will have to take into account factors such as taxes, resources, influences from each of the houses, as well as their strengths and weaknesses.
Based on the award-winning Game of Thrones television series, you'll have to choose one of the six houses available in the game: the Tyrells, the Lannisters, the Baratheons, the Greyjoys, the Starks and the Martells.
The game can be enjoyed by 3 to 6 players, ideally 6 to make the most of it.
If there are only 2 players they can also play the game, but each person must use two houses to follow the rules of the game.
At the beginning it is hard to adapt to the game, as it is a pure strategy board game, and requires a certain learning curve, so the first game will probably be the longest.
Ticket to Ride
Ticket to Ride is a game that can already be considered a classic, for train lovers it is perfect, but of course, anyone can enjoy it without any problems.
The main goal of the game is to connect cities and stations by railway tracks. The more stations and cities you connect, the more points you earn, and the one who manages to build the longest railway track in one game gets additional points.
Like any strategy board game, learning to master the game takes time, a normal game can last from one to two hours, so it's perfect for an afternoon with friends or family.
There are different versions (United States, Europe, India, etc.) but it can be played perfectly by people from any country since the instructions come in several languages and the board and tiles do not contain any written language, only the names of the stations.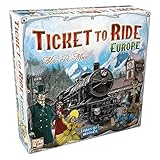 Agricola
A game about running a farm, raising animals and harvesting cereals and vegetables. Does it sound boring? Well, not at all, in fact it's one of the best resource management board games ever, if not the best.
In Agricola you will have to manage your own farm set in the Middle Ages. As farm owners you will have to face a time of famine until you can make it prosper.
That's why resource management is so important in this game. Build a family to help you get more resources, build more fences to store your livestock, learn a profession to get the most out of your work, and block the other player's efforts to slow down your growth.
Mayfair Games Europe GmbH Agricola Family Edition - English
Edición familiar del clásico juego de mesa AGRICOLA: esta edición introductoria no cuenta con cartas y reglas simplificadas, un punto de entrada perfecto para jugadores más jóvenes o aquellos que simplemente quieren una experiencia de juego más casual. Guía a tu familia hacia la salud, la riqueza y la prosperidad y ganarás el juego
Juego de mesa de estrategia: Agricola es el juego clásico donde los jugadores asumen el papel de agricultores del siglo XVII y guían a sus familias hacia la riqueza, la salud y la prosperidad. Cada juego desafía a los jugadores a tomar diferentes decisiones estratégicas
CONSTRUYE SU PROPIA GRANJA: Necesita espacio para usted y su familia, campos para la agricultura y pastos para muchos animales. Recoge granos, envía a tu gente a arar campos e incluso construir un molino de viento. Mantenga un buen equilibrio entre la agricultura y la cría de animales para una granja floreciente
Fácil de aprender: reglas simples y un tema fuerte hacen que este juego sea fácilmente accesible para todos, lo que lo convierte en un gran juego de mesa para la noche de juegos familiares con niños y adultos.
Número de jugadores y tiempo de juego promedio: este divertido juego de mesa para niños y adultos se puede jugar con 1 a 4 jugadores y es adecuado para edades de 8 años en adelante. El tiempo de reproducción promedio es de 45 minutos
Settlers of Catan
We are probably looking at the best strategy board game on the list.
With more than two million copies sold in America and Europe, as well as being awarded both in Germany, its country of origin, and in the United States as "Game of the Year", it is one of the indispensable games to play.
Catan is a perfectly balanced game that combines strategy, resource management and negotiation skills.
We are settlers and our mission is to occupy the territories of Catan Island and get its natural resources. To do this we will have to build villages, trade routes and compete with the other players to become the winner of the game.
The minimum age to play the game is 10 years old and the players needed are between 3 and 4. For more people to join the game it is necessary to get the different expansions that add more rules and possibilities to the game.
And the expansion so you can play with 5-6 players!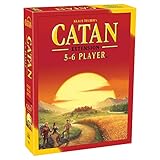 Mayfair Games Catan Expansion 5 to 6 Player Extension Board Game
Extensión CATAN que permite un total de 5 a 6 jugadores para el juego de mesa CATAN | Juego de mesa familiar | Juego de mesa para adultos y familia | Juego de mesa de aventura | Fabricado por CATAN Studio
ESTA ES UNA EXTENSIÓN AL JUEGO DE ESTRATEGIA CATAN: necesitarás un juego base CATAN (también conocido como Settlers of Catan) para jugar con esta extensión. Añade 1-2 amigos o familiares más sin sacrificar la facilidad de juego. Añade piezas de jugador verdes y marrones y expande tu isla con 2 puertos más y 11 azulejos de terreno adicionales. Hasta 6 jugadores ahora pueden disfrutar de CATAN con esta extensión
AHORA 5 a 6 JUGADORES PUEDEN DISFRUTAR DE ESTE JUEGO DE ESTRATEGIA: intercambia, construye y establece la isla de Catan en este adictivamente divertido juego de estrategia anteriormente llamado Settlers of Catan. Los jugadores controlan su propia civilización y buscan esparcirse a través de un tablero hexagonal modular en una competencia por el punto de victoria.
BUILD O ÚNETE A UNA COMUNIDAD: Ya sea que juegues en familia, en un grupo de juegos de mesa o a través de videoconferencia mientras te quedas en casa, CATAN es un juego social que ofrece muchas oportunidades para la interacción del jugador. Incluso puedes encontrarte explorando el emocionante mundo de los torneos CATAN.
Pandemic
What would you do if a relentless virus threatened humanity and only you and your companions were capable of dealing with it?
That is the premise of Pandemic, one of the few board games where everyone wins or everything is lost, a collaborative game where participants will have to figure out how to eradicate different diseases that will challenge their intelligence, tenacity and decision making.
It is also one of the few games that do not end after a game, in fact it is a campaign in which each game affects the next. Where every decision made has consequences and can determine the end of the human race or a new resurgence.
And curious as it may seem, if you have a good amount of cleverness, you can play it alone, although of course, it is advisable to play it with other people.
Robinson Crusoe: Adventures on the Cursed Island
In this adventure game with RPG touches, we'll get into the shoes of castaways who, upon arriving on a desert island, will have to do everything in their power to survive.
You can take on the role of a soldier, a carpenter or an explorer among other options, each with its own characteristic skills that will allow to avoid the different dangers that lurk on the island.
One of its main attractions is that the difficulty can vary depending on the mission you have to complete, and there are a total of 7 missions that change the path you take in each game.
However, this is not a recommended game for beginners, it is a bit complicated to learn at first so it will take several games to master and enjoy it fully.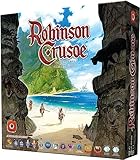 Carcassonne
This is another strategy board game that can be considered the best on this list, with more than a decade of sales successes. To play Carcassonne means hours and hours of guaranteed fun.
Set in the French city of the same name during medieval times, the aim of the game is to get victory points, whoever has the most wins.
The game consists of placing tiles at random, while drawing tiles you have to match them to complete farms, monasteries, cities and roads. The more you complete, the more points you earn.
Another way to get points is to place your followers on different tiles. If you place a follower in a city he will become a knight, if you place him on a road he will be a bandit, in a monastery he will become a monk and in a farm he will become a farmer.
Understanding the game only takes a few minutes, the dynamic is quite simple yet very addictive.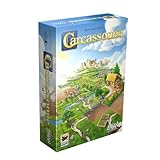 Puerto Rico
This board game is based on strategy and resource management.
In Puerto Rico we are the landowner of the island with the task of producing and shipping different materials to it, as well as building a whole range of buildings.
A classic that was first released in 2002 and since then has not stopped selling copies. Besides being on several occasions within the top 10 of board games of the BGG.
A very entertaining and dynamic game with a lot of content. It can be played by 2 to 5 players and the games last an average of 90 minutes.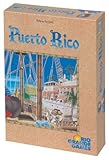 Gloomhaven
And to top it all off, this one is an absolute beast of strategy and role-playing games (dungeon crawler).
In Gloomhaven we'll be part of a group of adventurers, each driving a different hero with their own reason for exploring this world.
The group will have to collaborate with each other to overcome the different missions of the game, even to overcome a scenario.
After completing a scenario, players must decide what to do to continue the story.
Improve your team and skills with the experience and gold you get from your exploits, explore dungeons, recruit characters and grow the world of Gloomhaven
A very rough game that, although it may seem somewhat expensive at first, when you get your hands on it you'll realize that it's completely worth its price.
Without a doubt, board games aren't dead at all, and it's likely that after reading this article, you're left with unfinished bussiness because your favorite game wasn't there.
So we can conclude that board games are more alive than ever and, if you have never tried one, we have this list to guide you to get your first strategy board game.
Here's a list of Amazon's best-selling strategy games.
Surely you'll like these articles:
¡Siento que este contenido no te haya sido útil!
¡Déjame mejorar este contenido!
Dime, ¿cómo puedo mejorar este contenido?
Última actualización el 2023-12-04 / Enlaces de afiliados / Imágenes de la API para Afiliados