If you're searching for alternatives to enjoy some time alone, you can turn to solitaire board games.
Many of them allow you to play single-player games as well as group games, so you can also use them at family gatherings or with friends when you're not by yourself.
Most of these games are based on skill, agility, and strategy, which will help you improve your mental abilities.
There are also mystery and puzzle-solving games for those who enjoy police cases or riddles.
Being alone can also be a fun experience, so we will recommend some of the best board games to enjoy that time with yourself.
Friday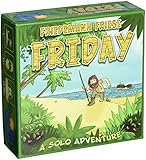 The board game Friday is here to amuse you. The games can last from 10 to 25 minutes, where you will be focused on how to escape from a desert island and overcome the dangers and obstacles you will face while in there.
The game is presented in a small box that is quite easy to carry and does not require a large space to play, so it is ideal if you are on a plane or train for a long journey or if you are at home for a weekend.
Friday is a card game that is easy to understand.
The ultimate goal is to escape from an island and to do so you will have to face different types of dangers, including pirates. You will have 20 lives to achieve this.
To start you will have to separate three decks of cards. The first one corresponds to the dangers you will have to face, the second one is from Robinson's cards where you will be able to overcome the dangers and the third one is from clumsy cards that will make it more difficult for you.
There are also three-level cards and another pile representing the pirates.
In the end, whoever manages to get off the island wins. When you get through the three levels and still have lives, you must face the pirates. If you manage to do this and have the cards representing your lives available, you will have won the game, otherwise, you will have to try again.
Sherlock Holmes: Consulting Detective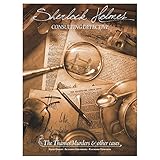 If you like mysteries, this is the perfect game for you. Sherlock Holmes: Consulting Detective is a great way to spend time alone. The goal is to outdo the famous detective by solving homicide cases.
The idea is for you to go around different places in London collecting clues to solve 1 murder case, which you can choose from the 10 cases presented in the game.
The game puts you in the shoes of the irregulars, some characters from the story, who helped the investigator with different types of tasks within the city.
You can enjoy this game both alone and in company, which makes it even more interesting. The games can be extended according to the type of player you are, but the average duration is 60 minutes.
Inside the box, you will find a book with an explanation of each case.
This way, when you choose the one you want to solve you must read the instructions carefully since there you'll also find some clues, suspects, and places you must visit.
Then you will be able to start touring the city. Each clue, character, or place will give you an entry in the book that will help you solve the case.
With the help of the map of London and the guide, you will be able to make the movements that you think are pertinent.
When you think you have solved the case you will have to go and answer a series of questions.
You have to keep in mind that Sherlock Holmes always has 100 points and the idea is to get more than that.
Robinson Crusoe: Aventuras en la Isla Maldita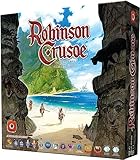 The objective of this game is to fulfill a secret mission in the middle of a desert island, where you arrived as a shipwrecked person.
To accomplish your goal you will have to set up a camp while facing different dangers that you will find.
You can choose from seven different scenarios included in the game. Bear in mind that in each of them you will find different types of difficulties that will make it harder for you to achieve the mission you require.
Using different types of cards you can explore the island, discover its secrets, break the camp, build and create new objects. All actions must be in accordance with the achievement of the specific objective.
Viticulture: Essential Edition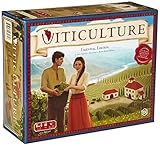 Stonemaier Games GTGSTM105 Viticulture: Essential Edition, Mixed Colours, Polish Edition
La Toscana del viejo mundo espera tu habilidad de elaboración de vino y astucia estratégica
Plantarás vides, cosecharás uvas, envejecerás vinos y llenarás pedidos de comerciantes para crear la mejor bodega de Italia
Viticulture es un juego de estrategia de colocación de trabajadores que permite a los jugadores crear su propio viñedo toscano donde se pueda encontrar una mesa y un amigo
Viticulture - Essential Edition viene con componentes para viticultura, pero añade algunas de las expansiones de la Toscana
Para 1 a 6 jugadores | 45 a 90 minutos de tiempo de juego | A partir de 13 años
This is a game that will introduce you to the world of winemaking.
The goal is to get more points during the game and you will achieve this with strategy and management skills when it comes to putting the vineyard into production.
There is a mainboard that has yellow squares to represent the summer as well as blue ones for the winter.
It also has some that are generic and can be used during any time of the year.
Remember that the crops depend on the weather, so it is important that you take into account these seasons to carry out your actions. Generally, in summer you sow and in winter you harvest, but you can also define this according to the conditions that the game gives you.
The game has four types of cards that are divided by color. The green ones represent the vineyards, the yellow ones the summer visitors, the purple ones the wine orders, and the blue ones the winter visitors.
These playing cards represent actions, which are executed on the general game board and reflected on the personal game board, which every player needs to have. The aim is to get as many wine orders as possible to win as many points as possible.
Scythe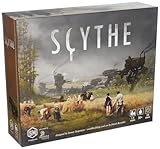 Scythe is a strategy game that aims to make the most money in a post-war scenario in Europe of the 1920s.
The recommended minimum age to play is 14 years old and you can play it either alone or in groups of up to 5 people.
What you will seek during this experience is to achieve the fame and fortune to emerge victorious from this challenge, for which you will have to collect resources, expand the population, improve technologies and expand control over the map.
The approximate duration of the game is 115 minutes, so you'll have all that time to get the necessary resources and reach the end with the best performance of the group. The time can be extended or reduced depending on the players.
Remember that the winner will be the one who has the most money, but it will be given, mostly, in the final phase of the game.
In other words, it is assigned after the evaluation of your performance in the game, for example, the popularity you achieved, the mastery of the field, the number of milestones accomplished, and the resources you have amassed.
Exit:
Exit is a series of board games that simulate the escape room experience that has become so popular in recent years.
The game Exit! began with their delivery of The Abandoned Cabin, but due to their success, there is already a wide variety of them.
The game can be played alone or in groups and the minimum age is 12. The duration of the game is approximately 90 minutes, but it could be more or less depending on the participants.
When you start the game you will move to a forest where you will find an abandoned cabin, taking into account that night falls you decide to wait for the sunrise inside the house, not knowing that you will not be able to go out as soon as you think.
It's all about finding the best way out of the cabin by means of some elements that the game offers you, such as a notebook and roulette with several symbols that will give you clues and help you achieve your goal.
It is a very good option to have a good time with your family and you will surely be delighted with this experience. Remember that you can live different types of scenarios with the versions of the game that are available in establishments.
Choose the one you find most attractive without fear, as they are all equally fun.
But beware! Each game has a different difficulty assigned to it, so if it's your first time playing, you should go for an easy one and keep leveling up (we're sure you'll repeat the experience with the other available titles!)
If you want to know more about the difficulties (with no spoilers!!) you can look up our article about exit.
Patchwork Doodle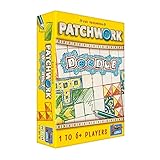 Lookout Games LK0107 Patchwork Doodle, Mixed Colours
Patchwork DOODLE es el nuevo prototipo de Uwe Rosenbergs del universo "Patchwork".
Centrado alrededor de un nuevo mecánico donde las tarjetas muestran las diferentes piezas del rompecabezas y un dado determina cuál de ellas utilizar, los jugadores las dibujan en su tablero de juego similar a un bloc de boceto.
Cada jugador tendrá su propia cuadrícula de 9 x 9 para llenar en el transcurso del juego. Cada jugador se instala dibujando una tarjeta de poliomino única desde la cubierta de inicio, luego dibuja eso en su hoja.
Las acciones especiales y la puntuación crean diversidad y tensión. Después de tres rondas rápidas, el nuevo maestro "Patchwork" se corona.
De 1 a 6 jugadores + de 8 a 20 minutos de tiempo de juego.
Patchwork is a technique that involves putting together different remnants to make blankets and that is what this board game tries to imitate.
It is a perfect option to test your mental agility and strategy, both alone and in groups.
The games usually last up to 20 minutes, although they could last a little longer, depending on the number of participants. You should also keep in mind that it is suitable for people over 8 years old.
Inside the box, you will find several elements such as two different card decks, some red and some yellow, colored pencils, a painting book, a dice, and a pawn, which will indicate the figure to be added to your blanket.
Each player will have one of the sheets of the notebook, which contains a grid. The goal is to fill the whole grid in an ordered way and to place the shapes so that they fit together.
It is a really fun game in which you also have the opportunity to use your imagination and make different types of designs, since the shapes can be painted in different colors and other elements can also be added to them, such as points, squares, circles or anything else you can imagine.
Onirim
Onirim is a game designed to be played alone, although it gives the option to use it with another person.
The games last approximately 15 minutes and it is recommended for children over 10 years old, due to its complexity.
The game takes you to a world of dreams in which you must find 8 doors, two of each color before time runs out.
To do this you must use a deck of cards that are separated by color and have some symbols.
The aim is to put three cards in a row of the same color but with different symbols, so you will have found one of the doors.
Be careful, because inside the deck there are nightmare cards, which will make some of your door cards be taken to limbo or discard some of the key cards, the first five cards of the deck or the whole hand.
It's a game of strategy and mental agility that will give you a good time but also challenge you to get new records.
It has different expansions that you can also get in the market and with which you can complement your experience.
After The Virus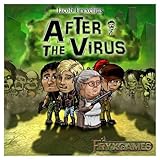 Fryx Games- Después del Virus Juego de Mesa de Estrategia, Multicolor (FYX46050)
¡El apocalipsis zombi está aquí! Un constructor de mazos cooperativo en el que tú y tu equipo se unen para sobrevivir y completar misiones.
15 misiones incluidas forman una historia, pero no esperes sobrevivir tan fácilmente porque los zombies te atacarán en números cada vez mayores
Para gestionar bien tu mazo y área de juego es fundamental si quieres completar la misión antes de que te abrumen los zombies
De 1 a 3 jugadores
A partir de 10 años. Tiempo de juego: 30 a 90 minutos
After the Virus is a card game that forces you to buy the cards you need to survive throughout the game.
It is really a game that you will want to repeat several times, especially because winning is almost impossible.
To start playing you must choose one of the four characters that are available.
One of the peculiarities of this board game is the description of these characters, as they vary from the rebellious teenager to the old lady with a shotgun.
Depending on the character you decide to be, you will have a deck of cards with different characteristics, some with more agility, others with more strength, and so on. The only thing you'll find in common is the life force.
In each turn, you must have 5 cards from the deck in your hand, in case you get a zombie you must kill it in order to continue. The other cards give you different options such as playing in your area, using ready-made cards, and exploring.
Aerion
In this entertaining game, you can play between 1 to 2 players. Your aim will be to build the best aircraft in space, using plans and materials to achieve an unbeatable fleet.
Make Commander Kirk tremble!
With this game, you will have to manage all your resources in the most intelligent way.
Explore space on Aerion!
Nautilion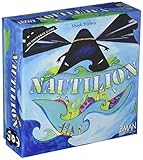 Nautilion - English
Toma el mando del poderoso submarino Nautilion para salvar el océano onírico en este dinámico juego de dados
Carrera a través del océano: en Nautilion, uno o dos jugadores trabajan juntos para correr a través del océano y neutralizar la casa oscura antes de que el submarino fantasma llegue a las Islas Felices
Toma el timón del Nautilion, control las mareas cambiantes y ponga fin a los delirios de conquista de la casa oscura antes de que su flota destructiva llegue a su destino.
Navega en peligro: emplea a tu sub, sumérgete en el abismo y derrota a la casa oscura antes de que sea demasiado tarde.
Versión en inglés | A partir de 10 años | 1-2 Play. ers | 15-30 minutos de tiempo de juego
Nautilion is a game that will take you to the depths of the ocean with a phenomenal design and really beautiful illustrations.
Although it is possible to play it between 2 people, the goal is to play it alone.
The aim is to get your submarine from the Happy Islands to the Abyss as quickly as possible, as there is a ghost ship trying to make the same journey but in reverse.
With the circular tiles, you will know which is the route you must follow to achieve what you want.
These tiles are fundamental for the development of the game.
To begin with, you must throw 3 dices, from which you will choose one for yourself, one for the enemy and one for the board. You must make the decision that suits you best.
---
We leave you with this selection of The Best Board Games for One Player. If you liked it or if you miss any game, do not hesitate to leave it in the comments!
If you liked this article, you will surely like these others:
¡Siento que este contenido no te haya sido útil!
¡Déjame mejorar este contenido!
Dime, ¿cómo puedo mejorar este contenido?
Última actualización el 2023-12-04 / Enlaces de afiliados / Imágenes de la API para Afiliados