Dynamic games, suspense, and constant tension due to its "particular rules", the perfect game to lose your friends or to have your children hate you or drive you crazy by yelling at any time of the day.
First advice, don't play it every day, or your neighbors will hate you and make your life miserable. Or they will buy the game and get back at you…
Now a more serious question, are you here because you have seen the game Citadels and want to know if you will like it before you buy it?
Well, Citadels is a card game that will take you back to an imaginary time where there are castles overlooking the mountains, feudal lords sitting on their luxurious thrones, thieves you must keep an eye on, wizards and witches with miraculous powers and up to 18 different characters.
Citadels is a fun game that you will never tire of because every game is different.
It can be played by 2 to 8 people, with some very simple rules that you will learn in a couple of minutes.
There is a reason why it is already a classic game with its first edition in 2000 as well as being published in 25 languages.
The rules are super simple in the classic version and you will learn what each character does in the first game.
In the extended version, it gets a little more complicated because there are more characters to choose from, but since you can only use two of the characters in the expansion, you can learn step by step.
Also, you don't have to use them at the beginning if you don't want to!
Before starting to play Citadels, we recommend that you put this music in the background, to give atmosphere to your game and have fun like never before.
How to Start Playing Citadels?
We will explain a typical match for 4 players, with more or fewer players changing the number of cards that are dealt.
In the first round, the crown is given to the oldest player. He will be the first one to choose a character and the one in charge of mixing the cards and dealing them.
The district cards are shuffled and then 4 district cards are given to each player and 2 gold coins, the rest of the district cards are left on the table and then taken each turn.
Two character cards are taken and placed on the table face up and a third face down. These cards can be seen by everyone and are very important for the strategy to follow in that turn.
Then, each player draws one of the remaining cards, starting from the one with the crown and continuing from the left.
When everyone has a character card, the round begins.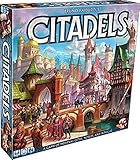 Fantasy Flight Games FFGWR02 Citadels 2016 Edition
Esquema de trama, engañar, y como usted construye excelentes ciudades en citadels, Bruno Faidutti del clásico juego de tarjeta redacción, intriga y astuto caracteres.
En la ciudad de citadels, dos a ocho los jugadores deben shrewdly proyecto de personajes y utilizar sus habilidades para crear el mejor posible.
2 a 8 jugadores
Edades 10 +
30 a 60 minutos tiempo de juego
Beginning of the Citadel Round
The character that has the crown is in charge of calling the characters in this order, when they have called your character you must put your card face up on the table and start your turn.
The turn order is according to this list:
1. Assassin
2. Thief
3. Magician
4. King
5. Bishop
6. Merchant
7. Architect
8. Warlord
In the extended version, there are 10 more character cards. These cards are used in a different way, at the beginning of the game you can use up to two new character cards by removing the same card number from the original deck.
For example, we can remove the Merchant card and put the Alchemist card.
1. Witch
2. Tax Collector
3. Wizard
4. Emperor
5. Abbot
6. Alchemist
7. Navigator
8. Diplomat
9. Artist
10. Queen
Actions in Citadels
In our turn we must first choose one of these 2 actions, the one that interests us most at that moment of the game or with the character we have:
1 – Take two district cards from the deck, keep one of them, and return the other one to the deck with the last one, or
2 – Take two gold coins from the bank.
After choosing one of the two options, we can build a district, for which we must pay the price of the district in gold coins.
The exact amount is represented on each card with the number of gold coins drawn on the top corner.
Finally, in our turn, we can use our character's special skill. In the card of the character, it is explained in detail what that special skill is.
When all the players have played their turn it is time to return the character cards, shuffle and start the next round, unless a player has completed eight or more districts which would then end the game and a point count would be made to see who is the winner.
Scoring in Citadels. How to win?
To calculate the number of points each player has we must use these rules:
Each player receives one point for the price of each district he has built in his citadel.
If we manage to have a district of each of the five colors, then we get 3 extra points.
The first player who builds eight districts receives 4 extra points.
If there are more players who end up having eight districts, they receive two bonus points.
The player with the most points wins; if there is a tie the player who has the most points in the first step of the count is the winner.
If there is still a tie, you can break the tie by counting the gold coins.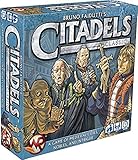 Fantasy Flight Games WR01 Citadels Classic Edition
Experimenta un juego de cartas muy popular en su forma original
Citadels Classic te trae el juego de dibujo de cartas e intriga de Bruno Faidutti ya que fue publicado por Fantasy Flight Games en 2002
Con reglas fáciles de aprender e interacciones sociales atractivas, Citadels Classic es un juego de nivel básico perfecto para jugadores más jóvenes o menos experimentados.
A partir de 10 años
Tiempo de reproducción de 30 a 60 minutos
Which Characters are in Citadels? What skills do they have?
The characters of the Citadels, based largely on the Middle Ages, present special actions. These actions correspond to the following descriptions:
Assassin
The assassin has the ability to kill a character, the dead character obviously won't be able to do anything in that turn and when he is called he won't say anything so that nobody knows that he is the character that is dead until the end of the round.
Thief

The thief can steal all of a player's gold coins in his turn.
Magician
The Magician can do 1 of these things:
1- Exchange all his cards for another player's cards, even if he has no cards himself, which will simply take away all the cards from that other player and leave him with none.
2- Change as many cards as he wants of the district, leaving for example 3 district cards at the bottom of the pile and taking 3 new ones.
King
The King receives a gold coin for every noble district he has, that is, yellow.
When you are King you have to take the crown and be the one who calls the players in turn. If you are killed, you don't say anything like anyone else and at the end of the turn, you take the crown.
Bishop
The Bishop has an alliance with the Warlord and the Diplomat and they cannot attack him and he receives a gold coin for each blue district he has built.
Merchant
He receives a gold coin all turns, plus one for each green district he owns.
Architect
The real estate bubble has reached the middle age, you can build up to 3 districts in your turn if you have money and the thief hasn't stolen it or killed you. You can also take two additional district cards if you want.
Warlord
You can destroy one of another player's districts per turn by paying the price of that district in gold coins and subtracting one from it. For example, to destroy a district that has cost six gold coins to build, you must pay five gold coins.
The characters in the Citadels Expansion. How do you use them?
And if you don't have the expansion, it's also available on Amazon: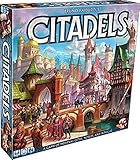 Fantasy Flight Games FFGWR02 Citadels 2016 Edition
Esquema de trama, engañar, y como usted construye excelentes ciudades en citadels, Bruno Faidutti del clásico juego de tarjeta redacción, intriga y astuto caracteres.
En la ciudad de citadels, dos a ocho los jugadores deben shrewdly proyecto de personajes y utilizar sus habilidades para crear el mejor posible.
2 a 8 jugadores
Edades 10 +
30 a 60 minutos tiempo de juego
After the success of its first expansion, Citadels returned to the game stores through its expansion.
With this expansion, it brought home 9 new action characters, different from the ones previously known.
These special characters are marked with a white star and only a maximum of two can be used in each game.
Witch
The dark sorceress has the power to control the will of a character during her turn, this means that she can use that character's special skill, for example, if she enchants the Warlord she will be able to choose which district to destroy and she will also charge a gold coin for each red district. You can't build districts on your own turn.
Tax Collector
You receive one gold coin for each player who builds a district during his turn. The only exception is if the killer kills you, but at least you get paid if the killer has built something during that turn.
Wizard
With your divination skills, you can look at another player's district cards and take the one you like or need at that moment of the game. You can also build your district at the same time and it won't count for your turn, so you can build two districts in total that turn.
This magic district can be the same as another one you already have, that is, you can have repeated districts using this power. Or if you don't want to, you can keep the card for later.
Emperor
Even the Kings pay their respects to you. He charges a gold coin for every yellow district in his city. The emperor chooses who will have the crown, takes it from the one who has it, and gives it to someone else. In addition, the person who receives the crown must give the emperor a gold coin or a district card.
Abbot
Just like the bishop, he receives a gold coin for every blue district he has built. In addition, he charges a special tax of one gold coin from the player who has more gold coins, if there is a tie or you are the one who does, you do not charge that additional gold coin.
Alchemist
With your alchemical arts, you recover all the money you have spent during your shift in building districts. You get your gold coins back when your turn is over.
Navigator
You are a nomad of the seas so you can do many things and earn a lot of money, but you can't build any districts during that shift. However, your overseas businesses report either four gold coins or four district cards that you can use on the next turn.
Diplomat
Just like the Warlord you get a gold coin for the red districts. At the end of your turn, you can exchange one of your districts for another player, paying the difference in price if there is one. The district of The Keep and the districts of the bishop can't be exchanged.
Artist
Your artistic creations make it possible to increase the price of your districts by placing a gold coin on top of them, but only one. The price of destroying the district is also increased by one gold coin.
Queen
If your relationship with the King is good, meaning that you are sitting next to the player who has the King's card, you get 3 gold coins.
My Opinion on Citadels. Is it worth it?
So this is Citadels, as you can see it is a game that is improving step by step as you learn and get to know its characters and districts better.
From Juegosmesa.org we highly recommend this game, since it has everything to spend an entertaining afternoon among friends and family.
Although it may not seem like it, behind so much war, ambition and fun there is also a very high component of strategy, in which deciding correctly which characters you will use in each round can make you win or lose the Citadels.
Games can last up to an hour but can be made shorter with some modified rules.
The game itself is very well designed, the drawings are excellent and have a very artistic style that will certainly stimulate everyone's imagination.
The cards are of very high quality, those with the characters are the size of tarot cards, so you can better enjoy the excellent illustrations.
If Citadels was already an obligatory classic, now the extended version with more characters, more districts, more fun, and more laughs, can't be missed in any house!
Enjoy it!
We leave you with a list of Amazon's best-selling board games:
Maybe you'll also like to read this ones:
¡Siento que este contenido no te haya sido útil!
¡Déjame mejorar este contenido!
Dime, ¿cómo puedo mejorar este contenido?
Última actualización el 2023-12-04 / Enlaces de afiliados / Imágenes de la API para Afiliados