Exit! is a saga of board games, created by the Germans Inka and Markus Brand in 2017.
In Exit, lovers of the so-called "smart games" will undoubtedly find a fun and engaging escape room
And it's not like all the other board games are "dumb games." In fact, it is implicit in all games to use intelligence and logic.
What happens is that, in Exit, the demand for the intellectual effort is higher than in games with other themes. You have to use your brain cells, and that's it!
For all these reasons, we bring you this article, where we will talk about the rules, and also our opinion about Exit! But we warn you that it will be a somewhat enigmatic introduction, you'll see why.
We've prepared this music for you in order to put yourself in the right mood while you play Exit! and we know you'll love it:
What Kind of Board Game is Exit!
The purpose of the creators of Exit! was to bring the tremendous experience of the real scape room to a home table.
In case you don't know what we're talking about: Scape rooms are real-time, face-to-face games where participants are locked in a room full of tricks, traps, and puzzles, which they must face in order to cooperatively escape the room. More than a game, the real escape room is a tremendously powerful experience, claimed by those who have played it.
Now you can get a clear idea of what kind of game Exit is. It's a game that takes you to a certain place where you're stuck, and you will need to figure out how to get out.
And in order to do that, you'll have to solve a series of puzzles.
But you won't be doing it alone, because the game is designed to be played by up to four people, so Exit! is a cooperative game, for which you'll have to make coordinated efforts to win. Although the instructions give the four-player limit, many play with more players, and guarantee that it's perfectly possible, without detracting in any way from the dynamics of the game.
You're already looking forward to playing Exit, aren't you?
Well, before you start, you should also know that Exit is a one-time use game. Why? Two reasons:
Once you know the answer to the riddles in the game, there's no point in playing it again..
The dynamics of the game include breaking pieces, cutting cards with scissors, crossing out, tearing up, and other destructions that are part of the action. This is essential to find certain answers and keep moving forward in the game, so there is no way to avoid it.
Exit! Game Pieces
There's not much we can explain in this presentation, without falling into the awful habit of spoiling. It just so happens that every title in the Exit! Saga contains an instruction booklet, or playbook, where they explain what you have to do to start the game.
Do you see why we told you that this presentation was going to be somewhat enigmatic?
The instruction booklet is the first (and only thing) you need to read when you start the game.
Don't go poking around in anything else, like the riddle cards, or the solution cards, if you don't want to ruin your game.
If you do, you will spoil the element of surprise, which is essential for the game to work, and you risk losing your money since the game won't be anymore a surprise or fun…
The instruction booklet also has fantastic images to help you find your way around the game. And those images might hide something useful…Mmmm…We never know…
Now, going back to The Exit box:
You'll find riddle cards, which are the ones that contain… well, riddles!
A riddle leads to another, a clue leads to another, and so on… until you manage to get out of the place where you are trapped.
There are also solution cards, which give confirmation that you've solved the riddles well.
The answer card's information must be useful in some way, and they should fit together. If it doesn't, it's because your answer was wrong.
You will also find solution letters, which are to make things easier for you. Cause in Exit, everything is designed for the game to not come to a standstill, or be left without a solution.
But be careful, because the game of Exit is evaluated at the end with a point count. So the more help cards you use, the lower your score will be.
You don't want to end your game with a bad score, so try hard and leave the help cards as a last resource.
Finally, there's the Solution Disk: It's made up of three spinning circles, containing symbols, numbers, or other graphics.
This disk is used to place the solution you think is right on it, and it will tell you if you got it right or if you failed.
The answers to the puzzles are a series of numbers or symbols, which are put on the disk, and will point to a solution card. If the code is wrong, the solution will not work.
How to play Exit
The question "How to play Exit?" is the second reason why we told you this review will be quite enigmatic.
It turns out that there is not one single formula for playing all the titles in the Exit saga.
The only thing we can say is that you're going to spend between 30 minutes and 2 hours (depending on the difficulty level of the title in question), dedicated to solving intricate puzzles.
Oh, and not always one at a time, since you could be facing several puzzles at once.
You and your fellow players will have to concentrate, work out theories, propose attempts, and to sum up… become detectives!
Now, the dynamics of Exit's gameplay is different in each chapter of this great series.
We can't give you a concrete example either, because we'd be revealing a riddle, or advancing pieces of solution, which we would never do.
But then… the mystery only fuels your curiosity, doesn't it?
You just have to follow the instructions and use your brain.
Tittles of the Exit Series:
These are the titles or episodes of Exit.
We'll give you a review of each one and the level of difficulty.
It is recommended that, if you are a novice, you play them according to their degree of difficulty.
Start with the Beginner's level, continue with the Medium level, and leave the Advanced level until the end:
Exit: The Abandoned Cabin: In this title, you will have to seek refuge in a hut in the middle of the forest because your car broke down. You realize that the door is stuck and the windows are sealed. The goal is to get out of the cabin in the shortest time possible
Difficulty Level: Beginner
Exit: The Mysterious Museum: In this title, you are trapped in a museum, which has terrible surprises in store for you. You have to escape from there as soon as possible
Difficulty Level: Beginner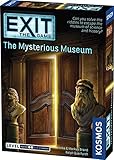 Exit: The Sunken Treasure: You will participate in the search of the famous treasure of Santa Maria. But something in the expedition fails, and you get stuck at the bottom of the sea, with limited oxygen. You have to find the treasure before you drown.
Difficulty Level: Beginner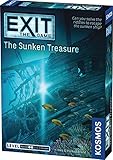 Exit: The Polar Station: You are part of a scientific research team at the North Pole. Alarms go off and the camp is evacuated, but you stay locked in the lab. You must find a way out before the last rescue helicopter leaves.
Difficulty level: Medium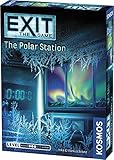 Exit: The Secret Lab: You volunteer for a clinical trial of a new medication. In the lab, a mysterious gas begins to be emitted and you pass out. When you wake up, you're locked in, and you have to get out before you die.
Difficulty level: Medium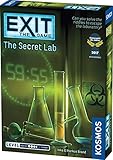 Exit: The Pharaoh's Tomb: As a tourist in Egypt, you get lost inside the tomb of Tutankhamun. Trying to get out, you arrive at a creepy burial chamber, and the door suddenly shuts, leaving you locked in. You have to find a way out in the shortest time.
Difficulty level: Advanced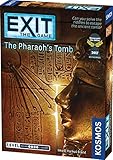 Exit: The Forgotten Island: The cruise ship you took sinks and you end up on a mysterious island. You'll have to find a way off the island.
Difficulty level: Advanced
Exit: The Forbidden Castle: Exploring a medieval castle you get locked in and are forced to solve intricate puzzles to find your way out.
Difficulty level: Advanced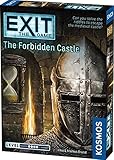 Exit: Dead Man on the Orient Express: Based on the renowned detective novel, in this story you are a passenger on the train, and you will devote yourself to solving the crime that has been committed on board before the train reaches its destination because if not, the murderer will escape.
Difficulty level: Advanced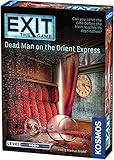 Personal opinion about the board game Exit!
One thing is for sure: Since its initial release in 2017, Exit! has been a huge success. Those who tried out the first three titles were looking forward to the next releases. Such anticipation, year after year, in relation to the Exit! saga is not in vain.
Today we see the following phenomenon: players form teams, contact other teams, and each one plays his own game, recording the points obtained, the number of help cards used, and the time invested, in order to compete with rival teams.
Naturally, there are also negative opinions. The main arguments given by those who do not give Exit! 5 stars are the following:
The game is not repeatable. (For many people this is precisely one of its charms, but well, everyone is free to give their opinion)
The game pieces can be destroyed (yes, this is a disadvantage if you want to give it to someone else after you play it, for example)
The game is difficult, especially some of its titles. (this is also, for many, their main attraction)
Anyway, judge for yourself. So the best way to do that is to… Play Exit! Since it's a game, so to speak, disposable, you can make a deal with your friends and make a pot to pay for it.
That way you'll have a good time, having fun and exercising your brain cells, without having to spend a lot of money.
Additionally, it's a pretty cheap game overall, so if you're 4 players, you can play for less than 5 dollars! Cool, isn't it?
We know that you will also be interested in reading some of these articles:
¡Siento que este contenido no te haya sido útil!
¡Déjame mejorar este contenido!
Dime, ¿cómo puedo mejorar este contenido?
Última actualización el 2023-12-04 / Enlaces de afiliados / Imágenes de la API para Afiliados