Sometimes we think that only young kids can have fun playing board games, but we are really very, very wrong.
There are many board games designed exclusively for adults.
Whether it is because of their more elaborate rules, their more complex dynamics, or their slightly more playful style ¨picante¨, adult board games are a wonderful pastime, which are sure to provide us with entertainment and fun for hours.
Do you want to know which are the Best Adult Board Games in 2020?
We bring you the list of the best games to have fun with your friends, family, or co-workers.
Set up the board, shuffle the cards, roll the dice… we're starting!
1) Guatafac – Parties and laughter with the most daring game
Guatafac is without a doubt one of the fastest and most fun adult board games around.
Each game can last half an hour, but the best thing about Guatafac is the freedom it gives the players to do… whatever they want!
With hundreds of question cards, you'll have only eight seconds to answer, so watch out for your subconscious, which is very treacherous!
Besides, if you add alcohol to the equation, we guarantee you'll stop us from laughing at you and your colleagues.
A big advantage of this game is that it has no set player limit, so you can play in large groups of people.
When you guess the answer, it's your turn to be the Master and ask the player on your left, that way the game advances until someone scores 7 points and kicks everyone else's ass!
2) Code Names
Code Names is a super simple game to assemble and very easy to learn, so in a glance at the instruction manual you can start playing.
To start playing, you simply have to form two teams, and through a series of clues, guess the identity of the rival spy group, based on the code names.
However, you have to be careful, as a bad clue could help the opposing team to win the game.
Designed for people over 14 years old, this game is perfect for large gatherings of people, as the fun is guaranteed, and in a jiffy, you and your friends will be facing each other to see who are the best spies.
In addition, Secret Code has a duo version, uno de nuestros juegos favoritos para jugar en pareja, as we mentioned in our article
3) Mysterium – Who is the murderer?
and if you have played it, you will know that dreams and imagination are an important part of this game.
In Mysterium, you will have to be very creative, because, through a series of clues that the narrator will give you, you will have to find out who his killer is and how he killed him.
This game, which bears some resemblance to Cluedo, is very, very fun, as you will have to compete against your opponents to be the winner.
With no doubt, it's a perfect game for adults!
4) Shitty Questions – Dare to Ask
Put aside your taboos and moral convictions to become the winner of Shitty Questions.
In this game, composure is the last thing you have to do, because without it, it's the easiest way to win the game.
Through a series of questions, you will have to reach your freedom and leave aside the seriousness of the monotonous life you have.
In Shitty Questions you have the opportunity to be yourself and not be judged by anyone.
Ideal for large groups of adults, this game also has geek and friend editions.
5) Ticket to Ride- Best Rated
This game originally has the name of the beautiful song of the Beatles, Ticket To Ride.
With this game, we promise that you will spend hours in front of the board with your opponents.
The aim of this game, simple as it may seem, is to build the longest train tracks in North America. The one who builds the most tracks, using strategy and annoying the others, will be the winner.
Very entertaining and not only recommended for adults, but for the whole family. There is a reason why the Ticket to Ride won the 2004 Spiel des Jahres award, the most important award in board games.
In addition to Adventurers to the Train with the map of North America, there are also other versions like Europe or the Round the World, with different cards and challenges.
6) 7 Wonders – Become the best emperor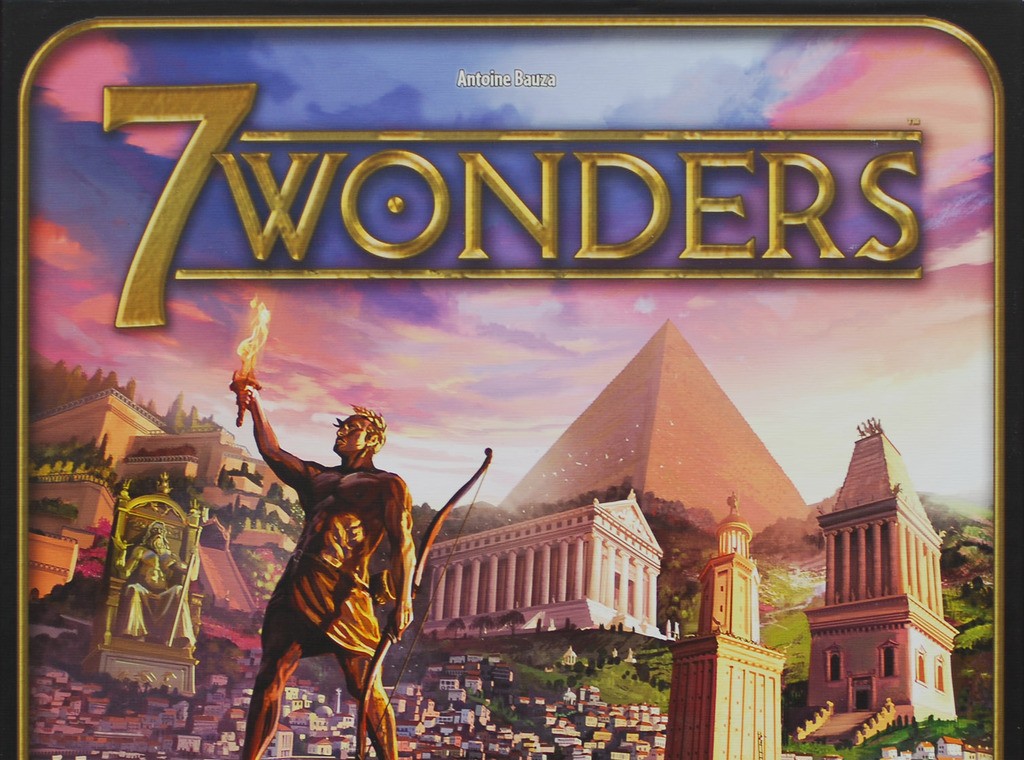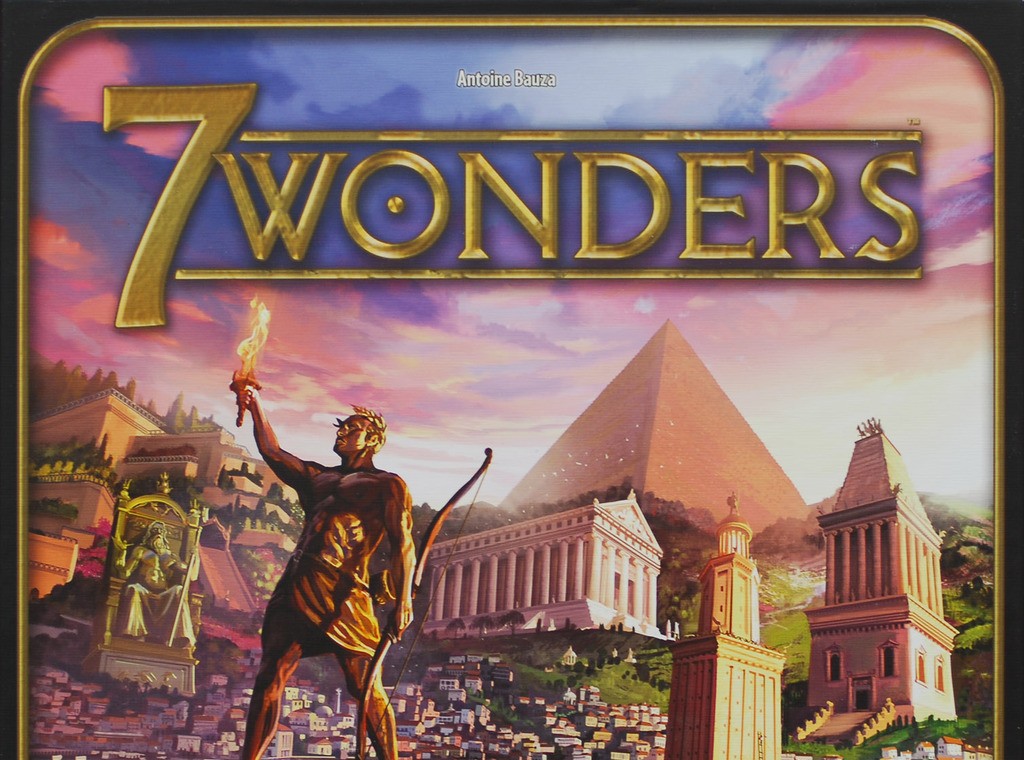 Become the best governor
Get together with your 6 friends to enjoy this table game in capital letters.
In 7 Wonders, your goal is to rule one of the seven great cities of the ancient world.
To do so, you will be able to use strategies ranging from the exploitation of natural resources to the establishment of warlike conflicts.
The important thing in Seven Wonders is to be the most powerful.
To play, you will need to be skilled and strategic, as a good decision could make you the Julius Caesar of your house.
Don't let the empire fall, and of course, let your friends beat you.
This game is a lot of fun, and above all, recommended for fans of history.
7) Sushi Go Party – Cook Like Never Before
We know that unfortunately, Sushi arrived in Spain only 20 years ago. But don't worry, this delicious dish of Japanese food is here to stay.
In Sushi Go Party! your mission is clear, you will have to become a chef in a luxury restaurant and prepare the best possible menu.
You will do this through the different cards that the game offers, with pieces of maki, sashimi, edamame, tofu or gyoza.
By using them intelligently you can get the most points, and ultimately become the best chef in the room!
Amaking!
8) Cheating Moth- Time to Cheat!
If you ask me how many hours I've played with friends and family at the cheating moth, I probably won't be able to answer.
This game comes out with a very clear premise, you need to cheat.
Excuse me? I can finally cheat legally in a game?
That's it, dear reader, in the Cheating Moth cheating is the only way to win.
The game is very simple, it is very similar to the One, so you will have to put the cards of your hand to get rid of all of them.
However, there are some special cards, the moth cards. And the only legal way to get rid of them is to hide them.
But beware, because a player will be the bug, which at the least that catches you will give you away and you will have to assume that role.
With this game, you will have the most fun ever. To see how people hide the moth under their legs, or in places less common, or how the moth slips under the deck is priceless.
Besides, has a very affordable price, which is always a plus!
9) Carcassonne – Strategy in its Purest Form
Carcassonne is possibly one of the most strategic games on this list.
Although the premise is very simple, since you only have some very cute tiles and figures called meeples, variance, chance and strategy are a fundamental part of this game.
Set in medieval France, in this game you will have to use your wits to destroy and crush your opponents, putting your figures as farmers, knights, bandits, or clerics.
A highly recommended game for adults that you will undoubtedly love-
10) Above and Below – Narrative and imaginative
In this fun game edited by the famous Devir company, your goal will also be to build a village, but in this case, you will also have to take into account the caves in the underground.
To do this, you'll have to use your villagers, who will help you win the game.
In addition, you can count on the encounter book that will take you into the history of this strategic game.
Highly recommended for adults.
11) Photosynthesis- for nature lovers
A game that is sure to be enjoyed by nature lovers.
We believe that photosynthesis is ideal among adult board games because of its complexity, although perhaps some young people with great mental agility can also enjoy it.
In Photosynthesis you will have to plant trees as simply and as hard as that.
You have to have a lot of patience because everyone starts planting at the outer limits of the game board, these trees in turn in certain turns and according to the number of trees, the size of them, will be fertilizing the soil and doing photosynthesis, which results in… you guessed it!
You'll get points for photosynthesis, it's this process that sets the game in motion.
These points will allow you to plant more trees to get ahead of your opponents until you occupy as much ground as possible, gaining space over (shading) your rival trees.
The message of the game is highly environmentalist and eco-social, so it is logical that whoever does a better job of planting trees and expanding their forest wins.
12) Unearth
A game that beyond requiring a lot of ingenuity and intelligence, will put your patience to the test.
We are all a little passionate about the world of archaeology and in particular about digging up ruins and finding historical jewels of humanity in very old places.
Imagine that you can have fun doing this in a game while representing an ancient tribe.
This game is a mixture of the most interesting elements in the world of archaeology!
In Unearthing each player decides which tribe they will represent, then by rolling the dice you can start digging up ancient ruins and with the objects and items you unearth, reconstruct true ancient wonders.
I'm sure this alone will make you want to play.
One of the most exciting adult board games you can buy this 2020.
13) Scythe
For lovers of the dystopian scenarios, Scythe is one of the rawest and most entertaining board games you can try.
Players are taken back to the time of the First World War, where countries have faced each other with all their weapons and most of civilization has been destroyed.
Each of the players is a fallen leader who will have a leadership role in his area and will need to expand his influence and power to dominate all of Europe.
But of course, for this, you will have to have resources, weapons, and troops. You will be able to grow and improve everything you have at your disposal to rise from the ashes and restore order under your command.
If you like competitive games, in Scythe you will compete… to wipe the other factions off the face of the earth and implant a new world under your control.
14) Cards Against Humanity –
This list does not have an order by quality or popularity of them, because if so Cards against Humanity would be very probably in the number 1.
This fun game takes things to another extreme and if you are sensitive, or those who want to think that humanity is beautiful and perfect, it is not your game.
Cards Against Humanity is raw, real.
It is a game where the realistic comes through messages, very explicit and clear letters regarding certain aspects of the world and especially certain responses of the players
Why is Cards Against Humanity so popular?
Perhaps it is the way power is rotated (one player will always be the boss of the game), or the way the same players in their answers are the ones who end up raising the tone of the game in many ways.
A game designed to scale between the tolerant and the daring, the limit is set by the players.
15) Tribu de Sinvergüenzas
Se trata de uno de los juegos sociales para gente… poco sociable. Si en tu grupo de amigos todos andan sin control este juego nació para ustedes.
Con retos, preguntas y respuestas, y sobre todo, mucha sinceridad en todo momento, Tribu de Sinvergüenzas es el juego donde el peor se sale, sin aplausos ni nada y el que menos puntos negativos tenga pasará a comandar la tribu.
¿Estás listo para dirigir la tribu más desbocada?
16) Plague Inc. The Board Game
This is one of the darkest and most bizarre games on our list.
Imagine those movies of giant epidemics, where governments and always some hero fight to stop the spread of the plague and prevent people from dying.
Now think of it in reverse.
That's what this adult board game is all about.
Plague Inc. puts us in the situation of a patient affected by a terrible disease, but not just any patient, when we start this game we will be one completely determined to infect the whole world with the plague!
Do you dare to play the role of the angel of death on a game board?
17) Catan
This is a game that competes with 'Cards Against Humanity', both in popularity and in the number of expansions and versions that have been released since the first version.
If we look closely, Catan is very similar to those PC role-playing games where several players start preparing farms, houses, fields, sowing, everything always in search of the most advanced development among the players.
In this case, each player is a group or nation that has just arrived on an island. However, the conditions of the island are not the best, there will be many obstacles to develop your city and your crops on it.
In the same way, the growth of each player affects the others, so he becomes an all against all. In the end, as expected, only one player will have managed to take control of the island.
The complexity of this game, however, is much greater than any similar game you have played on Facebook, so be prepared to put together a real strategy to grow or be erased from the island.
18) Shogun
"Shogun" is a game for lovers of complicated and complex strategies. The players assume the role of commanders of the troops of 16th century Japan and their main objective is to ensure the dominance of their family.
The game has excellent mechanics and divides it into two long turns, which include the planning phase, the resolution of the battle, and the betting mechanism.
Each element reflects the unique atmosphere of feudal Japan, and each part can be completely different.
It is an excellent choice in adult board games for spending long evenings and having fun with friends or family.
19) The Godfather: Imperium Corleone
As for the best adult board games, this game deserves to be among the first in the ranking.
The Godfather is a board game set in the world of the Italian mafia, whose game refers to the plot of the film with the famous iconic role of Marlon Brando.
New businesses, gangsters, blackmailers, shooters, lots of money and all this to make your family the most powerful in all of New York.
This is a classic example of an adult social game, which will especially appeal to fans of long, complicated games.
It will not be easy to dominate a mafia empire like the one that can be built in this game, but without lying to us, we are all very attracted to the figure and power of The Godfather in the movie.
Get ready to take over the whole city and then go for more with your mafia empire.
20) Betrayal At House On The Hill
This is an adult board game specially designed for the lovers of horror games.
It is best played with several participants (can be up to 4) and is about exploring a haunted house.
By rolling the dice, each player advances and collectively unravels mysteries, moving forward in exploring the mysterious house on the hill, but also facing new risks on their way.
The board and game mechanism is designed to expand the adventure through the participation of each player
The only downside to this exciting game is its duration.
With the dynamic so moved that it has, this game can be culminated in approximately one hour, but on the other hand there are more than 50 combinations between its elements, which makes that each new game is different from the previous one, in addition each player can discover new passages that in the previous game had even come to light.
Fun is guaranteed.
21) Tabú (Taboo)
Despite what you might think by its name, this game is not directly linked to eroticism or those taboos known in society, Taboo revolves around taking certain words and forbidding their mention in any sense.
Then, you must explain a concept related to those words but without using them.
The taboo is the veto or prohibition, which is a sin, of mentioning those words.
Example: If the word is baseball, you have to get your teammates to guess the word but you may not be able to talk about bats, gloves, balls, stadiums, or players, hard, don't you think?
This game, among the best board games for adults, also has the element of the diversity of words or options, there are more than 1000 words that you can use and if you have imagination, you can add some alcohol or other elements so that the words, bans, and situations become more and more difficult and interesting.
Here you can also see a list of Amazon's best-selling adult board games
We recommend that you also read these articles
Frequently Asked Questions (FAQ)
❓ What are Adult Board Games?
As their name indicates, they are board games that are meant to be played by adults. Whether because of its slightly over-the-top content or its complex dynamics, this list is intended for older players.
🏆 What are the Best Adult Board Games?
There are thousands of different games, with different dynamics and ways of playing. In our ranking, we have selected the best 17 games in 2020. Read carefully and discover them!
💰 Where can I buy Adult Board Games?
There are a lot of sites to buy board games, but we leave you links to make it easier for you to buy them at the best price on Amazon.
Última actualización el 2020-07-06 / Enlaces de afiliados / Imágenes de la API para Afiliados