For many people, the best company in the world is their better half, and when you add two more friends in a couple to the plan it's awesome! It is common to arrange outings, dinners, and evenings of couple play.
If that is your case, and you are also a fan of board games, I have excellent news for you:
We gathered for you the best board games for 4 people, and in a short time, you will know everything about them.
They are also very good for playing with the family, parents and two children, for example, as they are also well suited for family entertainment.
The truth is that not every game is suitable for 4 players. Some are not fun unless a large group is completed, and playing them with less is a waste. Others, on the contrary, with four or more people, are totally unsuitable.
That's why we bring you this selection today so that you can get straight to the point, and not fall short, or go overboard when buying a 4-person board game.
Robinson Crusoe: The Cursed Island
There is no adventure that surpasses survival on a desert island, at the expense of nature and with any danger that may lurk. If you add to that a good dose of mystery… That's a super adventure!
Now, this is a cooperative game, where you and your friends are going to be castaways fighting for survival.
You'll have adventure cards, which urge you to explore the island, find the resources you need, or discover ancient treasures; event cards, which are responsible for all sorts of circumstances occurring, such as attacks by wild animals, for example; and mystery cards, of course. You're not just anywhere… it's Cursed Island, remember? Unraveling dark unknowns will be an essential part of your stay: What is buried in that well-hidden aboriginal ruin? Don't you want to know?
The game includes 7 different scenarios, each one surpassing the last in complexity and shock – there's so much to discover on Cursed Island!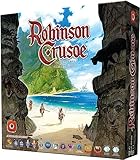 Telestrations
Do you know the game of Chinese Whispers?, the one where you start with a phrase or word that, after a long chain of whispers, no longer looks like the one you used?
Telestrations use the same principle, except that here the message is passed from player to player by the use of pictures.
No matter how good a cartoonist you are, and no matter how well-intentioned you are, the chances are that the person you're talking to will interpret your drawing as he or she really wants to, so you have to work hard to get the message to the end of the chain intact. This is almost never achieved.
In fact, what you do achieve is to laugh until your guts can't take it anymore.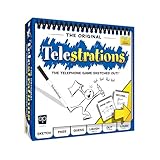 Telestrations Game
Telestrations brings family games like telephone" to the next level. Players race the timer to sketch a word. Once the timer is up, the sketch is passed to the next player who has to guess what is drawn. The guesses are passed around to each play who must try to draw the word that they see and so on. The game includes 8 erasable sketchbooks and markers, 1 die, a 90 second sand timer, and 2400 words to choose from. Telestrations takes board games" to a whole new level It's the perfect
This product can only be shipped to North America
Telestrations is officially licensed
Kill boredom with this unconventional board game
Telestrations makes the perfect gift.
Spooky Stairs
A light and fun game, though it does work the memory quite a bit. Players have to climb a ladder that leads to the top of a tower, where a ghost lives.
You will assume the role of a mischievous boy who wants to be the first of the gang of friends to get to the top and scare the ghost away.
The ghost knows what they want to do to him, and he turns annoying little boys into ghosts. How does this happen? Well, every time you roll the dice and it says "ghost," the player's piece is covered with the ghost piece.
These pieces are hollow inside and have a magnet that holds the piece to the ghost. When the pawns are all covered, it will be very difficult to remember who is who, unless you have a very good memory.
The game is in a German version, but there are directions in English and there's no problem at all to play it! (since the game does not use language)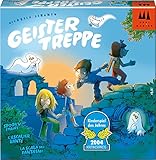 Dream Factory
In this magnificent game, you will be a film producer from the golden age of Hollywood, and your greatest ambition will be to make films that will remain forever in the memory of viewers and pass into the annals of Hollywood history as true classics.
To produce your scripts, you'll travel to different famous locations in the Mecca of cinema, to participate in some very fierce auctions, where you'll have to battle to get hold of directors, actors, actresses, all of them first-rate… if you want your films to be truly immemorial.
In this game, just like in real Hollywood, the competition will be brutal
Emotify
To play in teams, you must divide them into groups of 2 people each. It's about guessing a series of things, which are grouped by categories: movies, characters, songs, etc. (There are 7 categories in total)
What do you have to do to guess? Well, knowing how to interpret emoticons well, and above all, applying logic to capture the link between them.
There is a lot of randomnesses involved in this game, and you have to guess within a certain time limit, so try to show your best powers of association of ideas.
Papua
The lush island of Papua welcomes you! In this game, under the role of a scientific explorer, you will be a member of a remarkable expedition in search of new discoveries.
The problem is that everyone in the group wants to be the best, and so do you.
Who will take the first place? Who will get a place in history with their discoveries in Papua?
The one who knows best how to use the resources at his disposal, and manages to accumulate more new species of flora and fauna!
Kaleidos
Kaleidos brings a package of illustrated cards, and letters of the alphabet. A cardboard is taken out and placed on the easel, and a letter is turned over.
Find as many words as possible, starting with the letter that is indicated on the card, before the hourglass runs out.
The illustrations that show the cards are very beautiful, in bright colors, and very well defined, but there is a jumble of things:
People, animals, landscapes, and unimaginable objects, all mixed up, like in the craziest nightmare of a deranged surrealist.
You have to be quick, but also skillful. Don't settle for the most obvious images, those that jump out at you, because the hidden ones are pointed higher.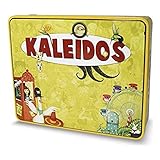 Scotland Yard
A detective adventure? Yes, sir! One of the players will be Mr. X, an elusive criminal, and the rest will be Scotland Yard detectives.
The chase unravels through the city of London, whose map is displayed on the game board, with markings on taxi, underground, bus, and ferry stations, each type with its own color.
Detectives move around the map, from station to station, using their transport tickets, and place their respective pieces.
However, Mr. X does not place his piece, because his movements are invisible to his pursuers.
The transport used will be the clue used by the detectives, and at certain points in the game, Mr. X is forced to show his location by placing his pawn and then disappear again.
Did he take a taxi? What taxi ranks are available from the last point he was at? Where could he have gone? These are the guidelines for catching Mr. X, the rest is up to the skill of the detectives, and how much they can cooperate with each other.
The game ends, with victory for the pursuers, if a detective moves to the same point as Mr. X, or if Mr. X runs out of stations to move to because they are all occupied by detectives.
It also ends, but with victory for Mr. X, if he manages to get around the city in 22 game turns, without getting caught.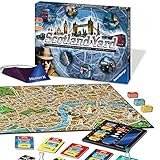 Ravensburger - Scotland Yard [Importado]
Diversión para jugar juego de detectives para toda la familia para disfrutar, con una mirada a estrenar
Un juego de estrategia que es diferente cada vez que juegues
Uno de los jugadores es "Sr. X", mientras que otros jugadores trabajan en equipo para tratar de atraparlo
Altamente detallado-tablero de juego ilustrado en torno al centro de Londres
Projektteam III (Author)
Cerberus
If you like stories that take highly dramatic turns, this will be your favorite game. It turns out that here, you will start playing cooperatively, all players will be friends in holy peace… for the moment.
Since they are all lost in the underworld, the land of the dead, they will have to help each other to get the boat and get out of there.
But, as you know, over there is Cerberus, the frightful three-headed dog, guardian of hell, who is determined not to let you escape. At least not all of you…
And that's where the dramatic turn comes in: You will have to betray each other because only by leaving some behind, others will be saved.
But, those captured by Cerberus do not abandon the game, they still have a chance to seek revenge, and, if they succeed, they may even win the game.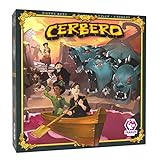 7 pecados
With a very original theme, comes this board game, where your task, in order to win, is to keep yourself holy and pure.
In order for your opponents to lose their purity, and not be able to compete with you, you use the temptations. What better weapon than that!
Now, you will be tempted too, so watch out. As sins in the end, they are able to give you certain advantages (at least it seems that way to you), and you may decide to succumb to the temptation and sin, with the plan to get rid of the sin later, after you have taken advantage of it.
Be careful with that, there is not always time to regain purity, and the winner will be the one who reaches the end of the game without any cards of sin in his hand.
Besides, there will be an angel and a devil around, each one to work on you according to their corresponding trade, you know, helping or annoying, respectively.
This game is only available in Spanish, but it is very easy to understand. Here are the sins of the cards that will come in Spanish and their translation into English, plus, it has the advantage that you will also find yourself learning a language!
Here the Seven Deadly Sins in Spanish and English:
Lujuria: Lust
Gula: Gluttony
Avaricia: Greed
Pereza: Sloth
Ira: Wrath
Envidia: Envy
Soberbia: Pride
Brass Lancashire
This is one of the best games in terms of resource management, wealth creation, and market competition. You move from the end of 1700 to the beginning of 1800, to participate in the fierce race of entrepreneurs in the Industrial Revolution of England.
The players will be risky investors, eager for fortune and monopoly domination.
The most skilled will be able to undertake all kinds of lucrative activities, and do so in a big way: founding shipyards and building large ships, operating mines, building factories, opening up canals and developing the railway.
Every achievement yields victory points, which are added up in the end
Cada logro conseguido arroja puntos de victoria, que se suman al final.
Majesty For the Realm
This is a very simple game, so if among the 4 players there are children, don't worry, they can be included without any problem!
Each player is the ruler of his own kingdom, which has 8 locations, and it must be covered with characters that are able to make your kingdom prosper. As your kingdom develops, you will earn coins, and the richest one will be the winner.
Will you be able to win the prize for the best king or queen? It depends on how efficient you are at running your country.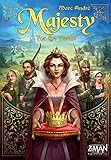 Splendor
Does the era of the European Renaissance appeal to you? With this game, you will be able to live it, and in the best way possible:
In the skin of a merchant who grows thanks to the riches of the New World.
You'll be mining precious stones in exotic lands far away. But it doesn't end there, you have to transport them, polish them, turn them into jewels, and sell them.
If you do all that very well, you will most likely get the patronage of some nobleman, an admirer of the pure beauty of the gems, and you will become the richest merchant and the winner of the game.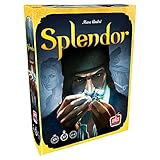 Monopoly Cheaters Edition
If you're a Monopoly fan, I'd love to hear what you think of this version of one of the most famous games ever.
In this monopoly, you're going to acquire property and build, just like in the original. The innovation comes when cards start coming out that allow you to cheat.
As I said, evading the rent, swiping bills, making false rolls of the dice… all of this is part of this monopoly of the underworld, where being a skillful businessman is not enough, but you have to let the mean and lying part come out.
Traps provide their reward only if they are successful because if you are discovered you will suffer the consequences. Even wives bring this game so that you are literally arrested!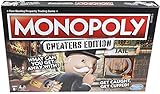 MONOPOLY CHEATERS /E
Sigue, dobla o rompe las reglas para ganar la Edición Cheaters del juego de mesa Monopoly. Hacer trampa es parte del juego.
Las tarjetas de trucos alientan a los jugadores a hacer trampa y qué trampa probar. Completa un truco para obtener una recompensa; fallar una trampa y pagar las consecuencias
Reúna a familiares y amigos para jugar este juego completamente diferente de Monopoly. Espere muchas risas mientras se anima a los jugadores a romper las reglas como parte del juego.
Las sugerencias en el tablero, las cartas y las reglas alientan a hacer trampa para poseerlo todo. El jugador con más dinero al final del juego gana
6 Nimmt (German Version)
Here's a simple, fast-paced card game that is usually quickly placed in the players' preferences. People play the first game and they don't stop playing for a long time.
Each player is dealt 10 cards. Four cards are placed on the table. Each card is the starting point of a row that can only hold 5 cards.
Each player chooses one card from his hand and places it face down on the table. They turn them over at the same time. The cards are placed in the rows in ascending order, i.e. lowest value first, then second lowest, and so on… the rows grow, round by round.
When a player is forced to put the sixth card in a row, he has to take the previous 5 cards, and his card is the start of a new row of 5 cards. The cards he takes count as negative points for him.
As you can see, when the rows are about to be completed, and the dangerous situation is approaching in which someone will have to put the sixth card, you have to apply your intelligence, choose carefully which card of your hand to turn over. Is it better to take the lowest one? Or to throw a high one, so that the damn sixth card touches another one?
This game is sold in German, but you won't have any problems since the instructions can be found in English on the internet very quickly and the game does not use any language.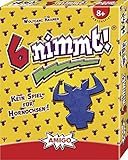 Amigo Spiele, 6 nimmt! Juego de cartas
Para 2 - 10 jugadores. De 10 años en adelante. Tiempo de reproducción: aprox. 45 minutos. trae muchos puntos negativos. Establece la serie debe tomar las primeras cinco cartas.
Y eso crea cuatro filas de cartas. ¿Quién la sexta carta en cada jugador recibe 10 cartas en la propia final, él tiene astutamente posibles unos idiotas. para uno menos uno alcornoques. El ganador es el que recoge las cartas.
a fin de tomar cada tarjeta d, trae juego de cartas que no se puede dejar pasar. El objetivo no toma 6! es el nombre del programa. Es un idiotas refinados una reconstrucción moderna! Por más de 17 años en un clásico popular, el juego es con
Kramer, Wolfgang (Author)
How to choose which game to buy
Definitely, options are not lacking. The only thing left to do is to agree with your friends or family on the topic they like best, or on which they agree.
Look at the game mechanics, too. As you have seen, there are card games, board games, role-playing games, games where luck prevails, and others where it is not so much, or nothing at all…
Another thing to keep in mind is whether there are children among the 4 players because some of these games are more appropriate for children than others, depending on their age, and there are also games that are not recommended for infants.
What I can assure you is the common trait they all share: They are fun, interesting, and a good investment. The rest is up to you.
We leave you with a selection of Amazon's TOP four-person board game sales:
Other articles that I'm sure you'll be interested in:
¡Siento que este contenido no te haya sido útil!
¡Déjame mejorar este contenido!
Dime, ¿cómo puedo mejorar este contenido?
Última actualización el 2023-12-04 / Enlaces de afiliados / Imágenes de la API para Afiliados